The Celebrity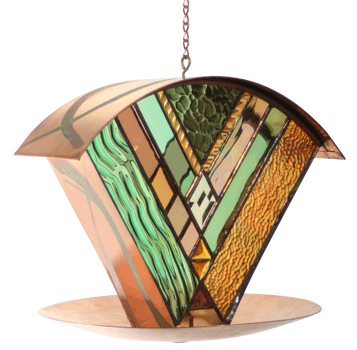 The Celebrity shown in
Gold, Moss & Mauve
The Celebrity bird feeder makes a great focal point in the garden. All of The Celebrity feeders have wonderful, vintage glass jewels that were discovered in the back of an old, abandoned warehouse in New York City. 10 in. high x 12 in. wide x 12 in. deep.
Birds: Depending upon your location, birds you'll see at The Celebrity bird feeder are the cardinal, chickadee, goldfinch, grosbeak, downy woodpecker, nuthatch, red bellied woodpecker, and other small, seed-eating birds.
Added Features: Extra large seed capacity means less time filling and more time enjoying the birds. The solid copper tray allows many birds to dine at once, while drainage holes keep the seed dry. The roof overhang helps shelter the birds and keeps seed dry. The tray is removable for cleaning. Trays may vary slightly from that shown. Fills from the top back.
Want this feeder on a post? A Post Conversion Kit is available that converts this hanging feeder into a post style feeder. See the picture on the right. Click here for more information.
Colors Available:
Gold, Moss & Mauve: Reminiscent of the Frank Lloyd Wright era of rich golds, soothing moss and wonderful browny mauve. Vintage jewels and glass rods further dress this feeder to the max. To see this color combination on The Celebrity post feeder in a garden setting go to the Squirrel Baffler page.
"Bright": Blues, greens and purple make this feeder pop with color. These bright colors make this stained glass and copper bird feeder look especially wonderful on a snowy day. Antique jewels and glass rods add sparkle. This color combination is show in the picture at right.
I'm sorry, but I'm temporarily sold out of The Celebrity Bird Feeders.
The Celebrity
$440