What My Customers Say
"Julie, thank you so much for getting the feeder to us in time for Ralph's 90th birthday.
We (under cover of dark) hung it outside his window the night before the party, and when he opened his curtains in the front window that morning, the birds were already all over it.
He was enchanted, and it was a highlight of his day. Thank you again for taking the extra effort to get it to us in time."
M.R. in York, PA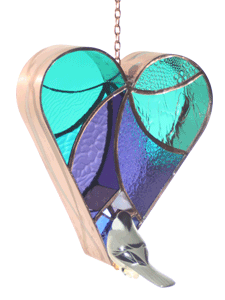 Hearts Intertwined
shown in
"Bright" color combination
Hearts Intertwined
Traditional stained glass and fun textured glass make this bird feeder special. This elegant, solid copper and stained glass bird feeder is often a wedding or anniversary gift to signify hearts intertwined as one. 9 in. high x 8 in. wide x 2-1/2 in. deep.
Birds: Depending upon your location, birds you'll see at this feeder are the chickadee, goldfinch, nuthatch, purple finch, downy woodpecker, and other small, seed-eating birds.
Added Features: Grackles, crows and other large nuisance birds cannot use this bird feeder.
Colors Available:
"Bright": Blues, purples and greens make this feeder pop with color. These bright colors make this stained glass and copper bird feeder look especially wonderful on a snowy day.
Hearts Intertwined
$135