Post Conversion Kit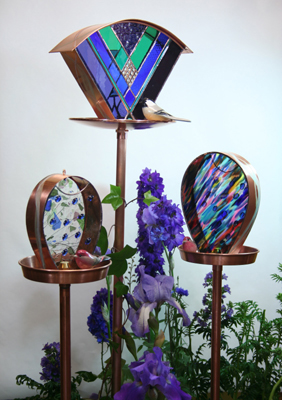 Post Bird Feeders
Center Top: The Celebrity in "Bright"
Lower Left: Garden Party in Blue, Purple, & Green
Lower Right: Garden Party in Pink/Blue-Multi
Three styles of my hanging bird feeders can also be mounted on a post: The Celebrity, Garden Party and Dinner for Four.
The Post Conversion Kit includes everything you need to convert one of these hanging feeders into a post feeder:
* a sturdy copper post (shipped in two sections with instructions for easy assembly)
* a steel ground stake to firmly hold your feeder in the ground, and
* a nifty filler-scoop to make filling your post feeder easy.
The top of your post feeder will be over six feet high, but you can easily fill it with the filler-scoop. The ground stake installs with just a hammer. If squirrels are an issue in your area, I highly recommend my Squirrel Baffler.
I'm sorry, but I'm temporarily sold out of my Post Conversion Kits.
The Celebrity Post Conversion Kit - $60
(Bird Feeder Not Included)
Order this model if you have The Celebrity bird feeder
Garden Party Post Conversion Kit - $60
(Bird Feeder Not Included)
Order this model if you have the Garden Party bird feeder
(for reference the Garden Party is 10-1/2 in. high)
Dinner for Four Post Conversion Kit - $45
(Bird Feeder Not Included)
Order this model if you have the Dinner for Four bird feeder
(for reference the Diner for Four is 8-1/2 in. high)