A Little About Me and My Art
I have been creating stained glass art for over forty years and bird feeders since 1991. Originally, I made large windows for churches, hospitals and private homes, and taught stained glass classes for three school districts in my home studio.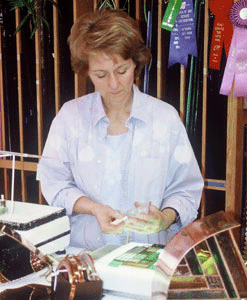 Julie working in her studio
One day as I worked on a large stained glass and brass window commission, squirrels attacked three plastic bird feeders hanging outside my studio. I had already used "decorative" duct tape to repair previous attacks -- this time, however, I snapped! What can't they destroy? They had even teethed their babies on old slimy wooden feeders which I had to throw out. Glancing around the studio in desperation I saw sheets of shiny copper. I bet they can't chew on copper I thought, and I know they can't eat glass!
Work stopped on the commission. Using scrap glass, I designed and created a tear drop shaped stained glass and shiny copper bird feeder with a plastic rod for two birds to perch on. As I filled it in eager anticipation, the seed spilled out onto the floor from the feed holes. Great, the squirrels won't even need to get on it to eat all my seed! Realizing my mistake I retrofitted my design with some more glass pieces (more fun to work with than duct tape, by the way).
As I prepared to try it out, Ginger, my teenage daughter, predicted, "That will scare away all the birds in the whole neighborhood." Well, that first stained glass and copper bird feeder was not my prettiest, but it worked great. A chickadee immediately came and then a goldfinch, and my squirrels were wonderfully frustrated .
My friends liked it. I realized immediately that I was on to something. I refined my design and consulted a copyright lawyer. (My brother, Mike, is a lawyer and I was encouraged to "do it right".) I registered my copyrights with the US copyright office. I register every new design also. That is why you see my copyright notice engraved on each bird feeder I make.
My feeders were presented at an Audubon wild bird symposium in Michigan. It is very important to me that they are not only beautiful and functional, but safe for the birds. Each new design is field tested by myself or by my friends and family for the "beak of approval".
My copper and stained glass bird feeders have received national acclaim and press. They were in the Smithsonian Store, the Boston Globe in "What's Hot in Boston", in the Naples Ambiance section, in Washington Women for the Philadelphia Flower Show, The Minneapolis Star and Tribune for the Uptown Art show, Wausau Weekend in Wausau Wisconsin, the Show program for the Uptown art, the Show program for Indianapolis Art Center, The Toledo Blade - Art in Bloom, The Chanhassen Villager-Her Art Is For The Birds.
My stained glass and copper bird feeders have even had their TV time: live artist interview-Fargo, live artist interview-Indianapolis at the Broad Ripple Art Show, live artist interview-Louisville, Kentucky at the St James Court Art show, just to name a few.
But all this aside, I'm happy to know that thousands of people are enjoying my bird feeders every day as they feed millions of wonderful little birds.
Happy bird feeding,
Julie