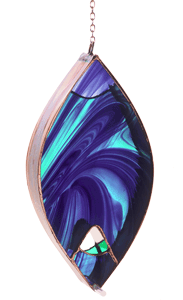 Chickadee Cafe
shown in
Blue/Green
Chickadee Cafe
No yard is complete without a beautiful Chickadee Cafe bird feeder. Swirling colors of stained glass wrapped in solid copper make this unique feeder a garden and gift-giving favorite. 11 in. high x 5 in. wide x 2-1/2 in. deep.
Birds: Depending upon your location, birds you'll see at this feeder are the chickadee, goldfinch, nuthatch, purple finch, downy woodpecker, and other small, seed-eating birds.
Added Features: Grackles, crows and other large nuisance birds cannot use this bird feeder.
Color Available:
Blue/Green: Cobalt blue swirls slice thru rich teal green stained glass for a knock out combination that blends well with any garden style.
Chickadee Cafe
$99