What My Customers Say
"Julie, thank you so much for getting the feeder to us in time for Ralph's 90th birthday.
We (under cover of dark) hung it outside his window the night before the party, and when he opened his curtains in the front window that morning, the birds were already all over it.
He was enchanted, and it was a highlight of his day. Thank you again for taking the extra effort to get it to us in time."
M.R. in York, PA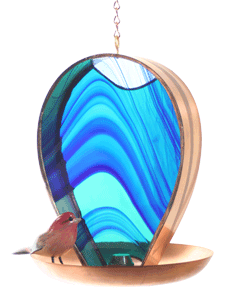 Garden Party
shown in
Blue/Green
Garden Party
It'll be a party in your garden with this stunning copper and stained glass bird feeder. The bright green color on one side complements the swirling blue colors on the other side. The swirling colors are part of the stained glass and no two are ever identical. Approx. 10-1/2 in. high x 7 in. wide x 7 in. deep. (Bird not included.)
Birds: Depending upon your location, birds you'll see at the Garden Party bird feeder are the cardinal, chickadee, goldfinch, grosbeak, downy woodpecker, nuthatch, red bellied woodpecker, and other small, seed-eating birds.
Added Features: Extra large seed capacity means less time filling and more time enjoying the birds. The solid copper tray gives multiple birds room to dine, while drainage holes keep the seed dry. The tray is removable for cleaning. Fills from the top back.
Want this feeder on a post? A Post Conversion Kit is available that converts this hanging feeder into a post style feeder. Click here for more information.
Color Available:
Blue/Green: Cobalt blue swirls slice through rich teal green stained glass for a knock out combination that blends well with any garden style.
Garden Party
$165