"My Grandmother's Garden"
A New Addition to the Garden Party Tray Bird Feeder Collection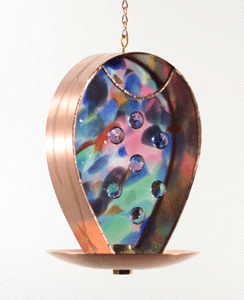 My Grandmother's Garden
Bird Feeder
"My grandmother's garden", I exclaimed when I saw this glass for the first time. Soft pinks, blues, aquas and greens created a watercolor scene like my Grandma Ruth's cottage garden of poppies, lilacs, roses and Bachelor Buttons. We grandkids made dandelion necklaces and hunted for four-leaf clovers as birds sang, butterflies hovered and bunnies bounced out of reach. I loved to explore the garden with my grandma, save seeds in envelopes and pick bouquets. Grandmother's garden was ever changing, and like her, was filled with beauty and love.
Let me create "My Grandmother's Garden" with sparkling antique glass jewels from West Germany for you.
Each of these Jeweled Garden Party tray bird feeders comes with the above Artist's Statement on a card.
Approx. 10-1/2 in. high x 7 in. wide x 7 in. deep.
Birds: Depending upon your location, birds you'll see at the Garden Party bird feeder are the cardinal, chickadee, goldfinch, grosbeak, downy woodpecker, nuthatch, red bellied woodpecker, and other small, seed-eating birds.
Added Features: Extra large seed capacity means less time filling and more time enjoying the birds. The solid copper tray gives multiple birds room to dine, while drainage holes keep the seed dry. The tray is removable for cleaning. Fills from the top back.
Want this feeder on a post? A Post Conversion Kit is available that converts this hanging feeder into a post style feeder. Click here for more information.
"My Grandmother's Garden" Garden Party
$189