What My Customers Say
"Dear Julie,
Received my bird feeder just now and wanted to send my very special thanks to you.
It's exactly what I wanted! Your work is fabulous!!
I'll think of your G'ma Ruth's garden and Martha's (mine). They taught us well, didn't they?"
Thanks So Much."
S.B. in Yucca Valley, CA
Tee for Three
Post Bracket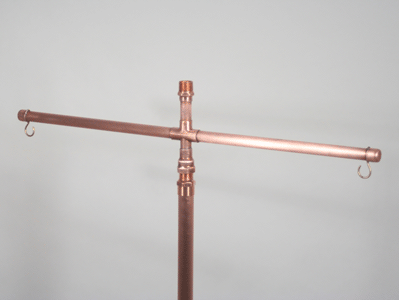 Tee for Three Post Bracket
shown mounted on the top of a post
(Post sold separately)
The Tee for Three screws on top of my Post Conversion Kit (sold separately) to create a wonderful bird feeding station. Any of my Celebrity, Garden Party or Dinner for Four tray feeders will screw on the top of this Tee for Three. The 11 inch arms each hold another hanging bird feeder for non-stop bird feeding action.
Size: Approx. 22-1/2 in. wide x 5 in. hi
Need the Post? A Post Conversion Kit is available that converts my hanging feeders into a post style feeder. For best results with this Tee for Three Bracket I recommend using the Post Kit for either the Celebrity or the Garden Party. Click here for more information.
Tee for Three Post Bracket
$49