"J-Bracket"
Hanging Bird Feeder Bracket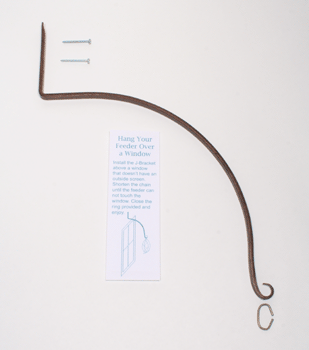 J-Bracket
with metal ring and mounting screws
I originally designed the J-Bracket for my own use because I wanted a way to bring the birds up close to eat and also enjoy my feeder myself. I shopped all over town looking for a suitable bracket that would fit my feeders. Finding none, I designed my own.
I also include a convenient metal ring to use to hang your feeder from the J-Bracket. Remove the chain from your feeder and slip the ring through your feeder's hanging hook, close the ring and slip it over the curved "J" of the J-Bracket. Fill and enjoy the birds as they come up close for your viewing enjoyment.
The Audubon Society recommends bird feeders up close to windows to cut down on birds flying into windows.
Added Features: Each J-Bracket is hand-forged in Wisconsin of sturdy steel. With the enclosed screws you can attach the J-Bracket above a window preferably without an outside screen. The graceful curve of the J-Bracket places the bird feeder in a good viewing position, and the tight hook on the end of the J-Bracket keeps the feeder from flying off in the wind. Because my squirrels don't climb the sides of my house, this bracket keeps them off my feeders. (Due to the unique cleverness of some squirrels, this may not be a deterrent in all situations.)
J-Bracket
$25