Copper and Stained Glass Bird Feeders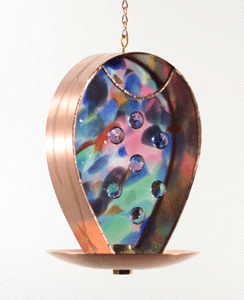 "My Grandmother's Garden" Bird Feeder
Welcome to my Stained Glass and Copper Bird Feeder Web Site. I've been selling my copyrighted bird feeders for over 20 years at art shows all across the country.
I've added several new bird feeders to my web site. So browse around to see what's new. One of my favorites is shown at right which I call "My Grandmother's Garden". Click here to read more about this special bird feeder and why I created it.
I've also added two new accessories: My J-bracket is a convenient way to hang your feeder over a window, and my new "Tee for Three" post accessory allows you to hang two more feeders from one of my post feeders. Both of these new items can be found in my Bird Feeder Accessories Gallery.
I will promptly let you know the status of your order with a return email. I typically ship your order within a week of receiving it. The shipping and handling charges are automatically calculated for shipment to the lower 48 states only. Please contact me for shipping to Alaska, Hawaii or internationally.
Please call me if you have any questions or prefer to place your order "in person": 952-934-5534 or

I hope you enjoy your visit to my web site.
Happy Bird Feeding,
Julie